Embodied Tasks
Project 1: Verhoudingen in beweging
Kunnen leerlingen rekenen beter begrijpen door te bewegen? Steeds meer wetenschappelijk onderzoek toont aan dat het antwoord op deze vraag 'ja' is. Vanuit een embodied cognition perspectief wordt beargumenteerd dat het hele lichaam betrokken is bij het leren. In dit project hebben we een les ontworpen rondom een digitale leeromgeving die uitnodigt tot maken van betekenisvolle bewegingen voor het domein verhoudingen. De les duurt ongeveer 60 minuten en is bedoeld voor de leerlingen tussen de 8-12 jaar (groep 5 t/m 8).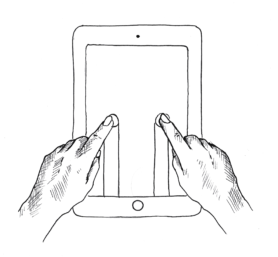 Leerlingen zien twee staven die zij tegelijk kunnen bewegen. De staven krijgen een groene kleur wanneer zij in de juiste verhouding ten opzichte van elkaar staan. Bij de verhouding 1:2 worden de balken alleen groen als de rechterstaaf twee keer zo groot is als de linkerstaaf. Bij een verhouding van 1:4, is dit 4 keer zo groot.
Het is aan de leerlingen om deze regel te ontdekken. Ze krijgen de opdracht om uit te zoeken wanneer de staven groen worden en hoe ze de staven groen kunnen houden terwijl ze deze omhoog bewegen. Ze ontdekken hierbij bijvoorbeeld dat bij de verhouding 1:2 dat zij met hun rechterhand twee keer zo snel moeten bewegen dan met hun linkerhand. Op deze manier ervaren ze met behulp van embodied design wat een verhouding is.
Probeer hier de activiteit zelf uit
Wat heb je verder nodig voor de les?
---
Project 2: Trigonometry design
In this project we developed an embodied design for trigonometry, with the goal to connect the unit circle and the sine graph. Students see a unit circle with a movable point on the left and a sine graph with a movable point on the curve on the right. In the first task learners are tasked to move these points in such a way that the screen turns green. The screen only turns green when the two representations show the same input (length) and output (height). In the second task a segment is added and learners solve equations such as sin(x)=1.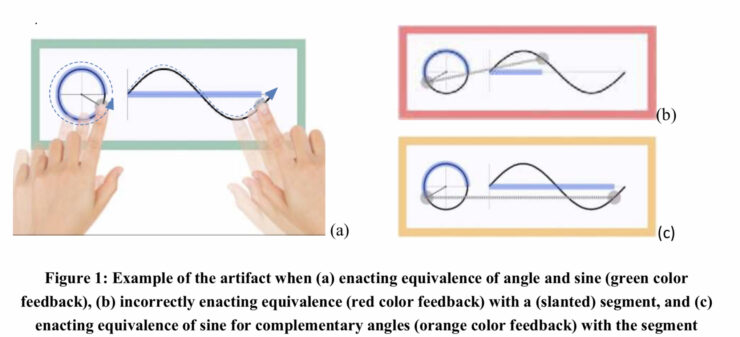 ---
Project 3: Embodied trigonometry in the classroom
In this project we digitalized a chapter on trigonometric functions, and enhanced the chapter in two ways. First we added handwriting recognition software to the digital assignments. This way students had available a kind of online sketchpad, enabling them to work online much like they would with regular pen and paper. The added benefit of an online sketchpad is that feedback is possible on learners' work. Second, we added so-called embodied activities to the regular assignments. These embodied activities cannot be solved through numerical computations and are meant to foster students conceptual understanding and reasoning using high -and low tech materials.
Links to materials and impression-videos:
The digitalized trigonometry chapter can be found here
For an impression of the handwriting recognition software click here
An impression of the classroom study can be seen here